Top Ten Tuesday is hosted by The Broke and the Bookish.
Holy moly, another year over! Well, almost over — there's still time to finish one more book, I'd say. Before doing so, however, it's time to write down some bookish resolutions for 2015! This year was my first full year of blogging here at Books Baking and Blogging, and I had so much fun with it. I can't really imagine my life without my blog anymore, to be honest. But let's not get emotional! There are still a lot of things I'd like to work on or do differently when it comes to book blogging and the organisational side of it. So… Here are some of my book blogging goals!
1. Read more books!
I've read 30 books (hopefully 31 by the end of tomorrow) this year, and, well, it seems like such a small number! When I look around the book blogging community, most people seem to have read at least 50 books. It's not that I want to read more because other people do so, it's just that there are sooo many books I still want to read! I'm not under the illusion that I'm ever going to read all of the books I want to read, but I can at least step up my game a bit. Therefore, I want to read 50 books next year. Last year, I didn't do a Goodreads challenge because I didn't want to be pressured into reading, but this year I am going to do a Goodreads challenge because I want to be pushed to read more.
2. Get organised on Goodreads
I love Goodreads, it's such a good way to keep track of what I've read and what I want to read and what not. I should really take some time to organise my shelves, though. Right now, I've only got the Read, Currently Reading and To Read shelves that come with Goodreads when you first sign up. There's so many more handy ways to categorise your books, though, and I really need a Books I Own shelf. There are quite a few books on my To Read shelf that I do own, but also a lot that I don't own (yet). And then there are books that I own that aren't necessarily on my To Read list. Confusing!
3. Cross post my reviews on Goodreads
Another Goodreads related goal! When I started my blog I never thought of cross posting my book reviews on Goodreads, and recently I found out that it's quite common to do so. I think it's quite a good habit to post them there, too, both to advertise my blog and to just get all my reviews on the biggest book recommendation website there is… Seems like common sense, really.
4. Plan blog posts/write in advance
I tend to write my posts the day I "have" to post them (Thursdays and Sundays), and that can be a bit stressful sometimes. It also means that I sometimes have no clue what to write about because I haven't finished any books recently (that ought to change with my 50 books rule) or didn't bake anything. So, I'm going to get (even more) organised, and plan my blog posts. I haven't thought this through yet, but it seems like a good idea to plan everything at least a month in advance. That way I can write some posts in advance as well when I'm pressed for time, which is especially doable for book reviews. Should make things a little less stressful!
5. Read more books outside of my comfort zone
When you look at the list of books I've read this year, you can see I mainly read contemporary realistic fiction. The only books that really stand out are the Hunger Games and Harry Potter, which are the most popular books from their genre (and I never thought of Harry Potter as belonging to a genre — it's just Harry Potter, the best books there ever were — anyway; tangent). I want to read more books from other genres, mostly fantasy, I think. I've ordered Throne of Glass and Cinder yesterday, so I'm really looking forward to those! Oof, so much to read, so little time…
6. Put together my own rating system
I've been wanting to do this for aaages! My reviews are currently just a couple of paragraphs of text, and they want to make them a bit more structured. At the very least I want to create some sort of rating system, with a spiffy graphic, to quickly indicate what my verdict is. I really just need to sit down for this and just make something, but I still haven't gotten around to it…
7. Use NetGalley more
I got approved for my first two books on NetGalley two weeks ago, and that felt so good! I don't want to request too much, but I definitely want to make more use of NetGalley. It seems like a great way to discover cool new books. And, you know, free books! Although I do still prefer physical books over ebooks.
8. Make better use of Twitter
Right now, I only tweet links to my new blog posts with a hurried little description of what it's about. Perhaps that's why I've only got 9 followers on Twitter, I don't know, but I want to make more use of it. I haven't got a Twitter account for that long yet, and it's just not ingrained in my system yet to use it. That should change! And this is where I ask you to follow me on Twitter, so I can interact with you more! I'm at least going to try to be more active on it.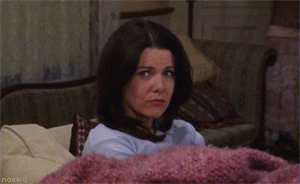 9. Interact more with other bloggers
That resolution leads nicely to this one: I want to be more active in the book blogging community. Comment more on other people's blogs, chat more with people on Twitter or other social media… The interactive part of blogging is the best part, so I should invest some more time in it!
10. Have fun!
"Well, that's cheesy." Yup! But very true as well. I don't want to forget to have fun while reading and blogging, because that's why I started blogging in the first place. It's become a very important part of my life now, but it should remain a hobby. I just want to remind myself of that once again.
And that's my top ten resolutions! Besides all of these bookish goals, I also want to keep improving the layout of my blog. I still find little things I want to change every now and then. Oh, and I want to keep on baking delicious things of course!
This is my last blog post of 2014, so I want to wish you all a very happy New Year! I hope you will all have a great night tomorrow, and an amazing 2015!